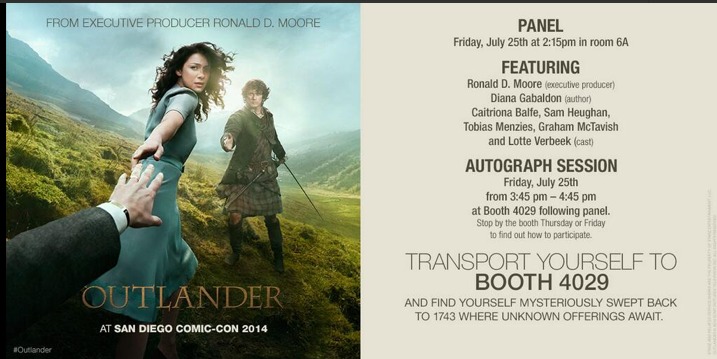 It's been a busy day for Outlander news, with the official announcement that Diana Gabaldon and the cast of the TV series will be appearing at a panel at San Diego Comic-Con on July 25th.  The panel will take place at 2:15 in room 6A and will feature the following cast/crew members:
Ronald D. Moore
Diana Gabaldon
Caitriona Balfe
Sam Heughan
Tobias Menzies
Graham McTavish
Lotte Verbeek
There will also be an autograph session on the same day at the Starz booth inside of the exhibit hall. 
For more information on the autograph session, be sure to visit booth 4029 to see how you can participate.  From past SDCC experience, it's usually a choice of which one you want to see more, the panel or the autograph session.  For shows and movies with big fandoms, people usually are camped out overnight in order to attend a highly anticipated panel, and autograph session tickets are usually part of a drawing that takes place while you may be in line for that panel.  This may not be the case with Outlander, but it very well could be, so you may have to choose which one you'd rather do.  This has been my experience in other years, but it very well could be different, so if you are attending, we sure to get more info at the Starz booth.