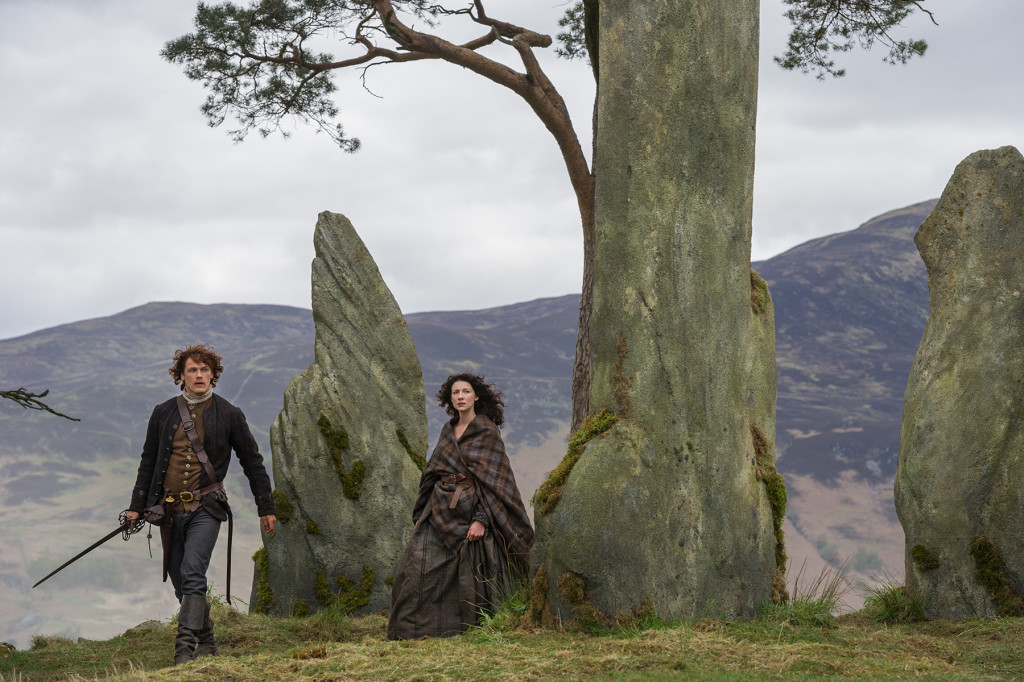 It looks like we'll have to wait a little longer than expected for the second half of Outlander.  But don't despair!  This extra time gives the production team more time to work on an amazing final product that will please all of us fans.  With that in mind, here is the official press release from Starz concerning the April 4th premiere date:
STARZ SERIES "OUTLANDER" midseason premiere set for
sATURDAY, APRIL 4TH 2015 
Outlander's Highly Anticipated Wedding Episode Delivers Highest Ratings of the Season with 3.8 Million Live +3 Viewers, Up Almost 40% Since Premiere

Season One Averaging 5 million viewers per episode to date
Beverly Hills, CA – September 25, 2014 – Two days before the first half of season one concludes with the mid-season finale this Saturday, September 27th at 9pm ET/PT, Starz announced that its hit series "Outlander" will return with the remaining eight episodes from season one on Saturday, April 4th, 2015.  The critically – acclaimed series adapted from Diana Gabaldon's international best-selling books and executive produced by Ronald D. Moore ("Battlestar Galactica," "Star Trek: Deep Space Nine," "Star Trek: The Next Generation") has already been picked up for a second season.
Approximately 3.8 million Live+3 viewers tuned in for the series highly-anticipated seventh episode, titled "The Wedding," to finally witness the beloved characters Claire (Caitriona Balfe) and Jamie (Sam Heughan) become man and wife in 18th century Scotland, the most on STARZ since episode 5 of "Spartacus: Vengeance" in February 2012. "The Wedding" performance represents a 19 percent increase from the week prior on "Outlander," and a 38 percent increase since the series premiere episode.  "Outlander" fans made "The Wedding" appointment viewing by flocking to the premiere of the episode on Saturday with 2.07 million Live+SD Saturday viewing and 1.23 million Live+SD viewers tuning in for the Saturday 9PM ET/PT episode premiere, both series highs. Through the first 4 episodes, more than 5 million average viewers have watched each episode of the hit series.*
The mid-season finale this Saturday, September 27th at 9pm ET/PT finds Frank (Tobias Menzies) desperately searching for his missing wife, while Claire tries to come to terms with her new marriage to Jamie. Claire is faced with an emotional quandary as a life-altering opportunity presents itself.
The "Outlander" series spans the genres of romance, science fiction, history, and adventure in one epic tale. It follows Claire Randall as she navigates the hidden dangers of 18th century Scotland, an unknown world where her freedom and very life are at risk. When she is forced to marry Jamie Fraser, a chivalrous and romantic young Scottish warrior, a passionate affair is ignited that tears Claire's heart between two vastly different men in two irreconcilable lives.
Diana Gabaldon's eight-book series has sold more than 25 million copies worldwide, and six of the books have graced the New York Times best-seller list."Outlander" is produced by Tall Ship Productions, Story Mining & Supply Company and Left Bank Pictures in association with Sony Pictures Television.
Starz retains all domestic multiplatform pay TV rights to the original series.
For more information, go to the official Outlander Facebook Page and follow @Outlander_Starz on Twitter and Instagram, or check out the vibrant online fan community. Join the conversation with #Outlander and #STARZ.